MAIN MENU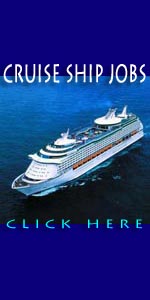 New Articles
Selecting a Cruise Line: What to Consider and Where to Look
In the United States and all around the world, cruises are a popular vacation choice. Instead of visiting a beach, an amusement park, or going camping, more individuals are making the decision to book a cruise. If you are interested in...

Taking a Cruise: Getting Out of the Lower Deck Cabins
Taking a cruise for the first time can be one of the most exciting ventures you may take upon yourself. Cruises are a great time for fun, family, laughter and a care free lifestyle, but first-time cruisers are not advised to rush into the...


Cruise Esentials
If you have never been on a cruise before, it is very, very easy to forget things that veteran cruisers would pack in their sleep. It is important to remember that during a cruise you are often living on a boat for days at a time, and if you forget something, chances are you will have to buy it on the ship or at a port of call for a much higher price for the convenience. So, to help you remember the essentials, here is a list of things that you absolutely should have packed in advance, as not to cost yourself a fortune on the trip.

Check with your cruise company in advance for exact paperwork necessities, but generally, in your carry on, you should have:
• airline tickets or e-ticket confirmation
• cruise documents
• passports and visas
• driver's license and back up photo ID if a passport is not necessary
• medical insurance cards and medical history
• copy of prescriptions and list of all medicines you are taking
• credit cards and traveler's checks. Make sure that you keep your receipts for your traveler's checks separate from the checks, and call your credit card companies to let them know that you will be spending outside of your normal area. Make sure you have contact information in case anything gets lost or stolen
• pre-paid phone card
• emergency numbers at home
• currency conversion chart
• wallet and money belt to keep important documents secure.
• a watch, you do not want to get left behind when the ship takes off to the next stop!
• glasses, contacts,
Today's Article

Cruise Ships: Activities for Seniors
Increasing in age does not mean what it used to mean in the past. In many cases, the popular stereotype of senior citizens relaxing in a nursing home is thrown right out the window. As medical developments have helped to increase life...



and any necessities to care for them.
• sunglasses
• guidebooks and other port of call information
• foreign language phrase book or dictionary
• maps
• reading material, books that you have wanted to read but have not had time for.
• business cards with email address to give out to new cruise friends
• home and email addresses of friends/relatives back home - for sending postcards, emails, or souvenirs
• photo album
• prescription drugs and any other essential medications in carry on bag
• ear plugs or "ear planes"
• small first aid kit (band aids, Q-tips, vaseline, dramamine, antibiotic cream, bandages, anti-diarrheal medication, cortisone
• cream, aspirin/tylenol/advil), sunscreen
• germicidal hand cleaner



In your luggage:

• cell phone and charger
• laptop computer, as long as it is not for work! Do not forget that you are on vacation!
• binoculars, for deck sightseeing
• camera, if it is not digital, make sure you have lots and lots of film. If it is, make sure you have lots of batteries, and extra memory cards.
• ipod, or other portable listening system for walks or lounging
• small travel alarm clock - battery operated
• night light

Your packing needs will vary depending on how long you are traveling for, age, medical conditions, whether you have kids with you or not. Just make sure that you keep the essentials in mind and are not caught unaware, and of course to have fun!
Set Sail with the Right Cruise for You
You have just seen what seems to be the one thousandth picture of your neighbor's recent cruise. With your eyes and ears on autopilot, you start to daydream about taking a cruise too. If anything, it would give you the opportunity to...

What is a Repositioning Cruise?
What is a repositioning cruise, and why would you want to go on one? Well, you might not want to, but there are many reasons why you would or would not want to embark on such a journey. A repositioning cruise is a little bit different from...


Find More Articles And Resources From www.treasure-vacations.com/cruises
Only The Best Products

Get A Cruise Ship Job! How To Get A Job On A Luxury Cruise Ship
Quickly & Easily!

Make Your 1st Cruise Your Best Vacation. At Last! Cruise Industry Experts Reveal: Every Secret To
Successfull Cruising.

Disney Vacation And Savings Travel Guide. Ex-Disney Employee Reveals
Insider Secrets.


Warning: fopen(): php_network_getaddresses: getaddrinfo failed: Name or service not known in /home/healthyh/public_html/treasure-vacations.com/cruises/rssfeed.php on line 352

Warning: fopen(http://rds.yahoo.com/S=53720272/K=travel/v=2/SID=w/TID=N001_71/l=NRE/SIG=12j9vol9t/EXP=1133994062/*-http%3A//news.search.yahoo.com/news/rss?p=cruise+vacation&ei=UTF-8): failed to open stream: php_network_getaddresses: getaddrinfo failed: Name or service not known in /home/healthyh/public_html/treasure-vacations.com/cruises/rssfeed.php on line 352

Warning: fread() expects parameter 1 to be resource, boolean given in /home/healthyh/public_html/treasure-vacations.com/cruises/rssfeed.php on line 354

Warning: fclose() expects parameter 1 to be resource, boolean given in /home/healthyh/public_html/treasure-vacations.com/cruises/rssfeed.php on line 357

Warning: date() expects parameter 2 to be long, string given in /home/healthyh/public_html/treasure-vacations.com/cruises/rssfeed.php on line 364

Warning: date() expects parameter 2 to be long, string given in /home/healthyh/public_html/treasure-vacations.com/cruises/rssfeed.php on line 365

Warning: date() expects parameter 2 to be long, string given in /home/healthyh/public_html/treasure-vacations.com/cruises/rssfeed.php on line 366

Warning: date() expects parameter 2 to be long, string given in /home/healthyh/public_html/treasure-vacations.com/cruises/rssfeed.php on line 367

Deprecated: Function split() is deprecated in /home/healthyh/public_html/treasure-vacations.com/cruises/rssfeed.php on line 388

Deprecated: Function split() is deprecated in /home/healthyh/public_html/treasure-vacations.com/cruises/rssfeed.php on line 389

Warning: date() expects parameter 2 to be long, string given in /home/healthyh/public_html/treasure-vacations.com/cruises/rssfeed.php on line 408

Warning: date() expects parameter 2 to be long, string given in /home/healthyh/public_html/treasure-vacations.com/cruises/rssfeed.php on line 409

Warning: date() expects parameter 2 to be long, string given in /home/healthyh/public_html/treasure-vacations.com/cruises/rssfeed.php on line 410

Warning: date() expects parameter 2 to be long, string given in /home/healthyh/public_html/treasure-vacations.com/cruises/rssfeed.php on line 411