MAIN MENU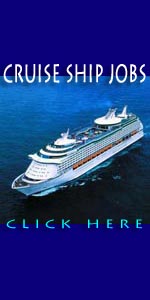 New Articles
Common Courtesy in Cruising
You don't need a Miss Manners at sea to know there are some basic, common sense rules of etiquette for cruising. No, there is no handbook on it, but the key words here are "common sense." For some less thoughtful folks onboard, taking a...

Cruise Ship Activities Geared Towards Teenagers
When it comes to taking a family vacation, it is often hard to find a vacation destination that targets the whole family. This becomes even more difficult when teenagers are involved. If you and your family are interested in having a...


Make Your Cruise Memorable
each one different, with new locales and destinations, different boats, and different activities and experiences on board. It's a great idea to preserve your memories of each trip in a special way so you can get the most out of your vacation by remembering it for years to come. There are a few small things you can do along the way to make this process simpler when you get back to dry land.
Don't be shy about taking pictures! Some people avoid doing this because they feel it makes them look too 'touristy.' But all of your fellow passengers are tourists, and it's the staff is certainly used to tourists. So if the kids get involved in a dance contest, or the chandelier in the dining room is fabulous, feel free to snap a picture. If you catch them at the right times, the crew in uniform is usually very open and willing to get into a picture with you. Ask nicely when they're not busy, and get a great shot of the captain or a crewmember in full regalia. Get cheesy if you want to; ask a fellow passenger to take a photo of you and your spouse waving by the side of the boat. My parents took a cruise when
Today's Article

Cruising in Hawaii
The islands of Hawaii are a dream destination for many travelers, and a cruise that incorporates all four of the state's beautiful islands could be just the ticket for your vacation plans. Each island has its own beauty and charm and is...



they were first married, and their favorite snapshot from the trip is one of my father pretending to throw my mother overboard. Well, whatever floats your boat, as they say. Make it campy, make it silly, make it romantic... just make it memorable.
Keep in mind that if you're planning on making a scrapbook or a memory box of your trip later, the secret is to save, save, save! Maybe your ticket stub doesn't look like much while you're on the boat, but years later you will love to see it. Your room reservation holds valuable details that might just remind you someday that you had a western window or a terrible cot that folded out of the wall. Ask the waiter for copies of menus or carbons of your check so you can remember what you had at that memorable first dinner on the water. Save your slips from the casino if you decide to give your luck a try- it might make you cringe to remember you lost $50 in bingo, but at least you'll remember it!
So enjoy your cruise. Make good memories, and preserve them. Steal the soap if you must; but there are better souvenirs to be had. You just have to look for them!
Cruise Esentials
If you have never been on a cruise before, it is very, very easy to forget things that veteran cruisers would pack in their sleep. It is important to remember that during a cruise you are often living on a boat for days at a time, and if...

Cruise Ship Gambling: Everything You Need and Want to Know
Gambling is a popular pastime of many American citizens. Despite the popularity of gambling, it is illegal in many areas of the Untied States. Currently, casinos are only allowed on Indian reservations, in Las Vegas, and in Atlantic...


Find More Articles And Resources From www.treasure-vacations.com/cruises
Only The Best Products

Get A Cruise Ship Job! How To Get A Job On A Luxury Cruise Ship
Quickly & Easily!

Make Your 1st Cruise Your Best Vacation. At Last! Cruise Industry Experts Reveal: Every Secret To
Successfull Cruising.

Disney Vacation And Savings Travel Guide. Ex-Disney Employee Reveals
Insider Secrets.


Warning: fopen(): php_network_getaddresses: getaddrinfo failed: Name or service not known in /home/healthyh/public_html/treasure-vacations.com/cruises/rssfeed.php on line 352

Warning: fopen(http://rds.yahoo.com/S=53720272/K=travel/v=2/SID=w/TID=N001_71/l=NRE/SIG=12j9vol9t/EXP=1133994062/*-http%3A//news.search.yahoo.com/news/rss?p=cruise+vacation&ei=UTF-8): failed to open stream: php_network_getaddresses: getaddrinfo failed: Name or service not known in /home/healthyh/public_html/treasure-vacations.com/cruises/rssfeed.php on line 352

Warning: fread() expects parameter 1 to be resource, boolean given in /home/healthyh/public_html/treasure-vacations.com/cruises/rssfeed.php on line 354

Warning: fclose() expects parameter 1 to be resource, boolean given in /home/healthyh/public_html/treasure-vacations.com/cruises/rssfeed.php on line 357

Warning: date() expects parameter 2 to be long, string given in /home/healthyh/public_html/treasure-vacations.com/cruises/rssfeed.php on line 364

Warning: date() expects parameter 2 to be long, string given in /home/healthyh/public_html/treasure-vacations.com/cruises/rssfeed.php on line 365

Warning: date() expects parameter 2 to be long, string given in /home/healthyh/public_html/treasure-vacations.com/cruises/rssfeed.php on line 366

Warning: date() expects parameter 2 to be long, string given in /home/healthyh/public_html/treasure-vacations.com/cruises/rssfeed.php on line 367

Deprecated: Function split() is deprecated in /home/healthyh/public_html/treasure-vacations.com/cruises/rssfeed.php on line 388

Deprecated: Function split() is deprecated in /home/healthyh/public_html/treasure-vacations.com/cruises/rssfeed.php on line 389

Warning: date() expects parameter 2 to be long, string given in /home/healthyh/public_html/treasure-vacations.com/cruises/rssfeed.php on line 408

Warning: date() expects parameter 2 to be long, string given in /home/healthyh/public_html/treasure-vacations.com/cruises/rssfeed.php on line 409

Warning: date() expects parameter 2 to be long, string given in /home/healthyh/public_html/treasure-vacations.com/cruises/rssfeed.php on line 410

Warning: date() expects parameter 2 to be long, string given in /home/healthyh/public_html/treasure-vacations.com/cruises/rssfeed.php on line 411